USA Launch
After 5 years of successfully circulating reusable packaging in Europe (and 100+ happy eCommerce clients and 1000's of very happy end-users) RePack is excited to announce its full launch in the US starting January 2020. We are currently accepting new clients for both pilot projects and full implementation of our reusable packaging service.
Canada Pilot
Canada Post has approved RePacks for circulation domestically. In collaboration with CP, we will be conducting pilot project beginning May 2020. We are currently looking for eCommerce companies in Canada to participate this project.
What is RePack?
We offer a pioneering reusable and returnable shipping packaging

service

that upgrades your customer's experience, saves you $, and sustains our planet.
RePack utilizes the first-ever packaging-as-a-service model (PaaS), eliminating the burdens of single-use packaging ownership and use.
RePack reusable shipping envelopes function almost identically to single-use shipping envelopes, with the added benefit of having a unique sizing feature that reduces dead air space around items being shipped. RePacks are reused 20+ times each and then upcycled at the end of their lifespan. Switching from single-use cardboard or poly plastic shipping packaging to RePack can reduce carbon emissions by up to 80% and reduce trash by 96%.
RePacks have been fully approved for use by USPS, FedEx, UPS, DHL and most third party carriers.
End-users who receive their orders in RePack have overwhelmingly reported an enhanced customer experience and a new appreciation for the eCommerce company for reducing single-use packaging and waste. We also utilize an innovative customer reward system that increases customer loyalty and repeat sales, while incentivizing packaging returns.
The RePack reusable shipping packaging model has been successfully in-use in Europe for the past five years, circulating hundreds of thousands of reusable packaging, delighting end-users happy, saving companies $ and reducing environmental impact.
To see who is participating and learn more visit our Success Stories

The RePack Service
Included in the one low cycle fee:
Your choice of packaging size(s). Currently available: Small (15" x 10" x 4" gusset) Medium (23" x 14" x 6" gusset) Large (26" x 14" x 8" gusset)

Empty return postage to our fulfillment center

Special clear sealing tape

Cleaning, inspection, loss/damage replacement

Data integtation

Reward Voucher program

Membership into the RePack Network and free micro-website

Free use of the RePacks returned to you by customers for product return/exchanges (which equals a built-in pricing discount.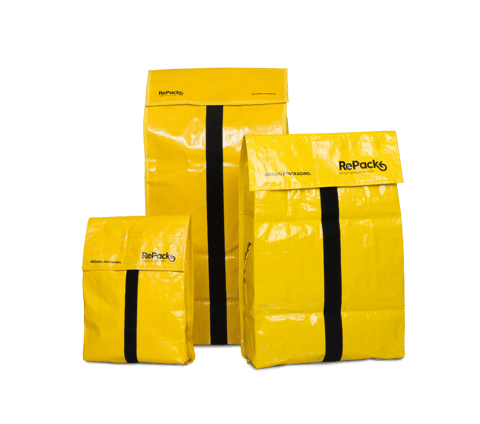 Pilot RePack
Interested in trying out RePack reusable packaging in your operations/fulfillment and with your customers?
We are offering a special

short-term collaborative pilot,
with the potential of continuing on in full service after pilot completion.
Criteria to consider:
Have products that are non-breakable and can fit into RePack's soft-pack returnable envelopes (Medium size 23.5" x 13.75" x 6.25".) Products that ship in poly or paper mailers are perfect!

Be willing to swap out your traditional shipping packaging with RePack reusable shippers for 200-2000 randomly selected customer orders. (You decide the quantity level that works best of you.)

Be open to sharing customer data and communication for those that receive their order in the reusable packaging, (i.e. customers will be asked to fill out a brief survey regarding their packaging experience)

Be open to Repack potentially sending a follow-up communication to your customers that received the reusable packaging.

Be able to work with your operations and fulfillment team to make the pilot happen over a 1 month period of time.

Be ready for an uptick in customer experience, repeat business and buzz that your company is part of the solution to too much single-use packaging!
Pilot Goals
The goal of the pilot project is to offer an opportunity for your operations/fulfillment to test out RePack reusable shipping packaging and to introduce and test with your customer base and get feedback on their experience.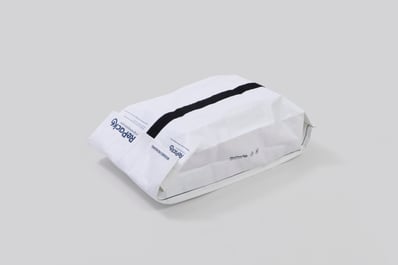 To support the pilot we are asking for a $4.00/cycle (package) fee
For this you will receive:
200 - 2000 Medium RePacks (23" x 14" x 6")

The empty return shipping labels pre-affixed for the packaging return back to our fulfillment center.

Rolls of special clear sealing tape.

Coverage for any loss/damaged packaging.

The use of RePacks for your customer product return/exchanges and the re-use of these for free.

An opportunity to test reusable shipping packaging in your order fulfillment processes.

The ability to ask survey questions to your customers that receive RePacks, and data and insights gathered during the pilot (including: customer experience, logistics, integration, costs, primary resource and carbon savings, trash reductions, etc.)

The ability to market your brand as participating in an innovative new reusable packaging pilot that reduces carbon by 80% and waste by 96% when compared to traditional single-use packaging.

The option to seamlessly continue on with the RePack service after the conclusion of the pilot.



Please contact us if you would like to begin using RePacks, participate in a pilot or learn more:
Mitch Barlas
mitch@originalrepack.com
+01-917-817-5549